4K Video, 20:30 min, 2019
Short Synopsis:
SUGAR, an emotional robot with a soul, fights against the narcissism of socially deadened humans.
Longer Synopsis:
In a post-apocalyptic world not much unlike parts of the present, SUGAR (Frank Willens), a humanoid robot that can feel, think and dance, is sent out to bring back a human touch to people. SUGAR finally encounters a HON (Human Organism Normal) (Bjørn Melhus), a post-influencer who passes his time in a sort of eternal commercial in an underground techno cell. SUGAR tries to free HON from his prison of routines, speech and movement loops and hopes to build a true encounter – an interaction, a dialogue. The tragicomic narrative of this encounter and its failure raises general questions about consciousness, ego-turbo-capitalism and the dream of the collective.
SUGAR is an experimental science fiction film.
INSTALLATION:

SUGAR in its original conception was presented as an installation. For exhibition views from "Free Update" (2019) please refer to the website of KINDL Zentrum für Zeitgenössische Kunst, Berlin.
https://www.kindl-berlin.de/melhus
Video Stills: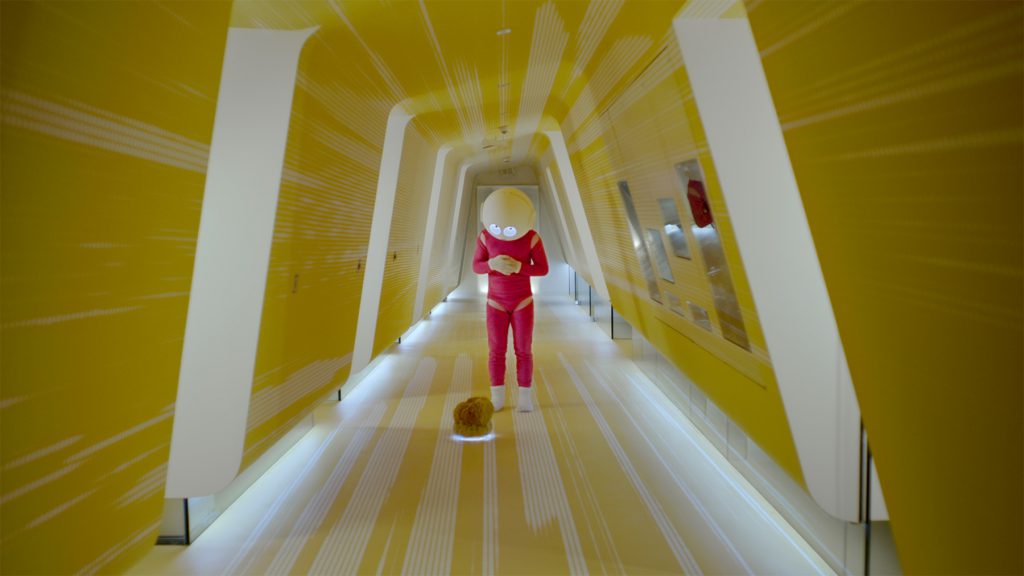 Production Team:
Written, directed & edited by Bjørn Melhus
SUGAR: Frank Willens
HON: Bjørn Melhus
Sugar's Voice: Alena Williams
Director of Photography: Eike Zuleeg
Camera Operator: Jens-Christian Wanzeck
Chief Lighting Technician: Julian Lück
Assistant Lighting Technician: Natalie Pusch
Lighting Consultant: Andreas Schwab
Set Design & Props: Markus Bertuch
Costume & Make-up: Julia Neuenhausen
Eyes for Sugar: Ole J. Melhus

Location Manager & Eye-operator Sugar:
Felix Laubscher
Set Construction:
Philipp Halisch, Michael Wiehl, Christine Würmell
Set Assistant:
Paula Godinez
Production Intern:
Christian Roncea
Set Photographer: Ralf Henning
Sound Design: Wolfram Spyra, Felix Andriessens
Music: Wolfram Spyra & Roksana Vikaluk
Re-Recording Mixer: Felix Andriessens
Postproduction Supervisor: Ben Brix
Special Effects: Antonis Kalagkatsis
Graphic Design: Javier Benítez-Pinzón
Colorist: Stefan King
Producer: Yuki Jungesblut for Limboland Productions
Produced by: Bjørn Melhus/ Limboland Productions
Special Thanks: Meg Stuart, KU64 Dr. Ziegler & Partner Zahnärzte, GRAFT Architects, Galerie EBENSPERGER RHOMBERG, Werkleitz Gesellschaft
Thanks to: Medienwerkstatt im Kulturwerk des bbk berlin
Made with the support of:
Die Beauftragte der Bundesregierung für Kultur und Medien (BKM)
Filmförderanstalt (FFA)